Chelshar Great Danes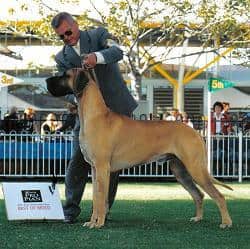 Sharyn Wright and Brian Elsley
**** Show Team ****
BISS Australian Champion Rithpen Miss Congeniality - 'Gracie '
The newest addition to the Chelshar family, has been making her presence felt in the show ring.
A beautiful dark brindle girl, I had forgotten how naughty brindles are, Gracie keeps everyone at home on their toes.
Only lightly shown ,Grace gained her Australian Championship with ease.
2016 was a good year starting with Grace winning Best Opposite Minor in Show at the Easter Great Dane Championship Show, then Best Opposite Intermediate in Show as well as Reserve Challenge Bitch at the August Great Dane Championship Show.
Grace was Best Junior of the Year in The Great Dane Club of NSW Pointscore and 5th Place overall in the Great Dane of the Year - Top 10.
Grace has been doing well at the Allbreeds Group level, winning multi Classes in Group along with Runner Up Best Exhibit in Group.
We are pleased to say our Grace, the naughty brindle girl has gone on to win multiple classes in the General Specials ring.
We are hoping Grace continues her winning ways.
************************
And she certainly did!
On 16th April, 2017 at the Great Dane Club of NSW Championship Show Gracie was awarded Best in Show, Best of Breed, Bitch CC, Intermediate in Show by esteemed judge Mrs Arnecia Eckenrode (USA)
Our Gracie finished the year being awarded equal first in the Dane of the Year competition run by the Great Dane Club of NSW.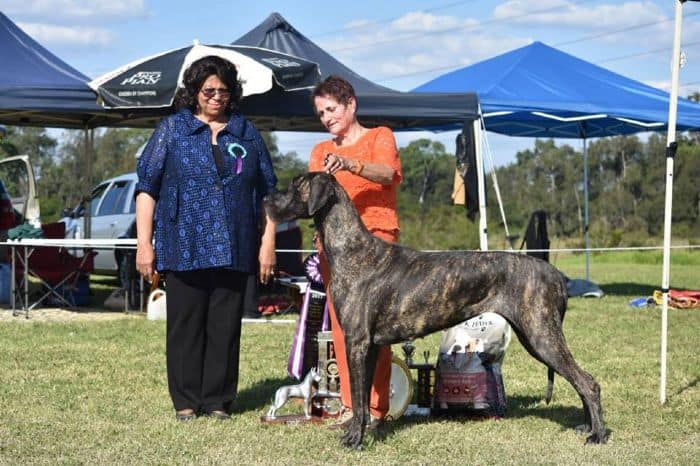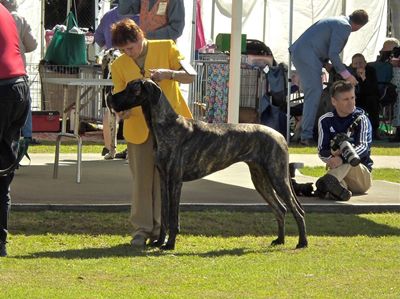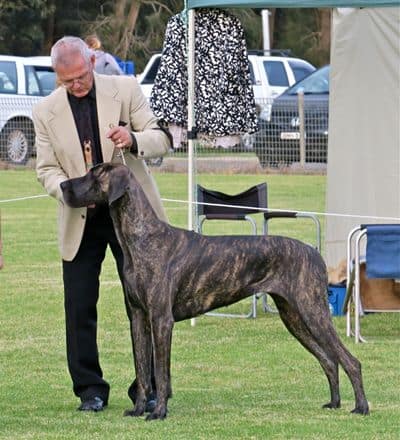 Australian Champion Rithpen King of Kings - Dalton

Dalton is a Great Grand child of our Bronson and Piper. Dalton has been making his presence in the show ring felt with many Baby Puppy of Breed class wins and also wins at Age in Group level. Now he is up with the big boys in Junior Classes, he has had a couple of Reserve Dog Challenge Awards and Best of Breed against older titled dogs, hopefully this is a sign of things still to come.

UPDATE: Dalton is a consistent Best of Breed and Class in Group winner .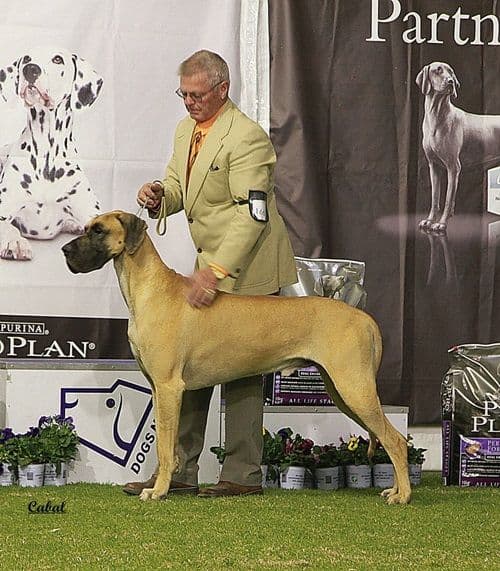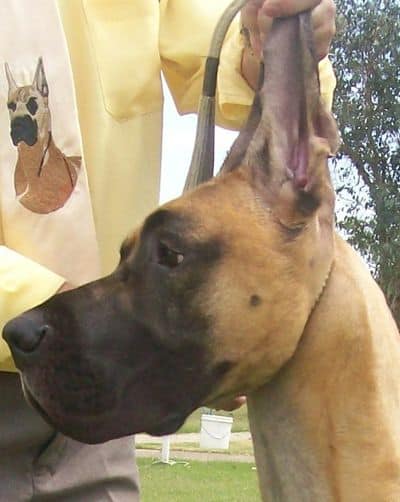 Multi BISS Australian Champion Kochak Omnipotent - Chelsea
One of the new additions to the Chelshar family,Chelsea, has done exceptionally well in the show ring from the beginning. At just 71/2 mths she is on 23pts ,which includes a BOB in very celebrated company.Chelsea is a little princess at home .The other dogs (Dalton and Paige) just adore her, letting her get away with almost anything. Above picture taken at seven months.
Chelsea has continued on her winning ways in the ring and obtained her Australian Champion title at the tender age of 15 months.
Well done Australian Champion Kochak Omnipotent!

UPDATE: Chelsea has continued on her winning ways, a consistent Best of Breed winner and three quarters of the way to her Grand Champion title. Winning many classes in show at Great Dane Championship shows and BEST IN SHOW at the Great Dane Club of NSW Easter Speciality 2013.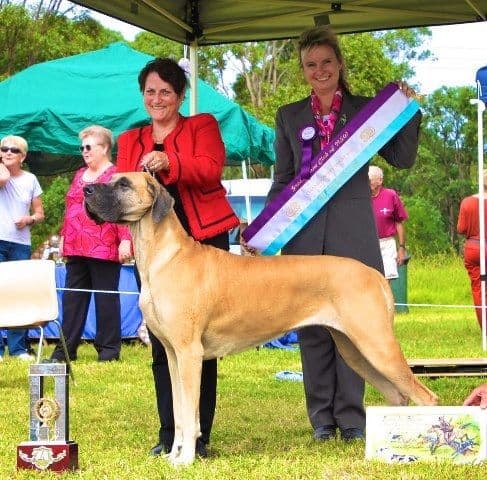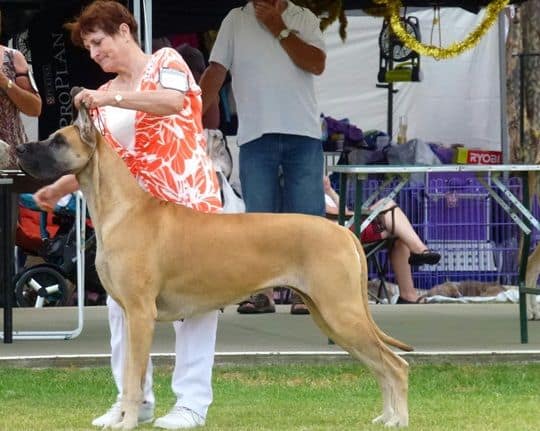 All pictures property of Sharyn Wright and Brian Elsley.
Website designed and maintained by Kerry Adams (0402 492 949)
Website hosting and domain registration powered by DomainNameSanity.com