Chelshar Great Danes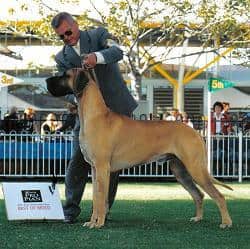 Sharyn Wright and Brian Elsley
Contact Details: 02 46 596 467
Sydney, NSW
Australia
- In Memoriam -

Through a tragic accident BIS, BISS Aust Grand Ch Chelshar -Bronson and his son, Aust Ch Chelshar The Magician - Merlin, both passed over the Rainbow Bridge in 2008.


BIS, BISS Aust Grand Ch Chelshar -Bronson

Bronson has made us very proud at Chelshar being awarded his first "Best in Show" All Breeds at only fourteen months old and gaining his Aust Grand Championship title at just over two and a half years. Bronson was awarded numerous "Best in Show" and "Runner-up Best in Show" and at five years and five and a half years won "Best in Show, Specialty". Bronson was also top Junior of the year in 2000 for the Illawarra and South Eastern Region, 4th place 2001, 2003, 3rd place 2002 in the Great Dane club of NSW Dane of the year competition. In 2001 Bronson was invited to the "Contest of Champions". Only 16 of the top dogs are invited to compete. Bronson was awarded "Best Parent and Offspring" at the Great Dane Show under breed specialist Ms A Vitikanin (Finland).

As a stud dog Bronson has produced 2 litters. From the first litter a stunning bitch Aust Ch Kaoota Kia Li (ai) and the second litter to our imported brindle girl Piper six puppies went to show homes and all had gained their Australian Champion title at just over twelve months.

Hold your mouse over the picture below to see a headshot of Bronson.

Aust Ch Chelshar The Magician - 'Merlin'

Merlin, a Bronson son, made his mark in the show ring from the tender age of 7 months, when out of 4 shows he had been awarded 3 Best of Breeds and 1 R/U Best of Breed as well as being awarded his Classes in Group.
Merlin gained his Aust Ch title at just 12 mths and continued to do well in the show ring with numerous Group and Show awards.
. Merlin was Aust Bred in Show at the Great Dane Club of NSW under breed specialist Tony Rewston (UK). Merlin was 5th place in the Great Dane Club of NSW Dane of the year competition 2006 2007.





Merlin and his sister Aust Ch Chelshar Charmed - Paige.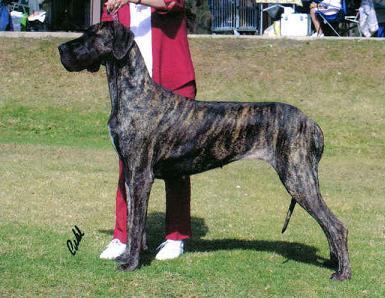 Australian Champion Congistadore No Nonsense (Imp NZ)- Piper

Piper came to live with us, our intentions being to mate her to our handsome BIS BISS Aust Grand Champion Chelshar - Bronson.
Piper was full of herself right from the beginning and fitted in with the rest of our Dane family right from the start.
Piper and Bronson produced one of the most successful litters we had bred. Six of the puppies from this litter went on to gain their Australian Champion titles at very young ages. The dogs from this litter have been bred on with and have also produced many beautiful and successful puppies in their own right.
An outstanding Great Dane, Piper won many prestigious awards during her show career, at her first Great Dane show she was Baby Puppy in Show with the Judge, Mrs. M Hearse - a Dane specialist "Raatu" Great Dane - making the remark that "she is Best in Show material" .
Piper went on to win consistently in the show ring, winning at the Great Dane Breed Specialty Shows under breed specialist Judges.
Piper was a super mum and one of the best companions I have ever had, although very mischievous right to the end .


Aust Ch Chelshar Charmed - 'Paige'

Paige was the daughter of Multi BISS Multi BIS Aust Grand Ch Chelshar Bronson and Aust Ch Congistador No Nonsence (Imp NZ) and littermate to Merlin.
Paige matured into a lovely show girl although she also enjoyed being at home tearing around the yard with her brother Merlin Aust Ch The Magician.
'Paige' did very well in the showring too, coming 6th in the Great Dane Club of NSW Dane of the year competition 2006 2007. Paige was also Best Opposite Intermediate in Show under Breed Specialist Tony Rewston (UK).
This was Paige's favourite pastime, she loved to stand under the willow tree for a tickle!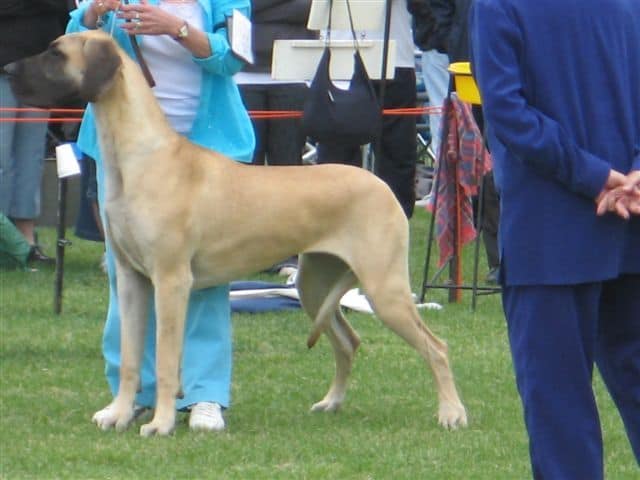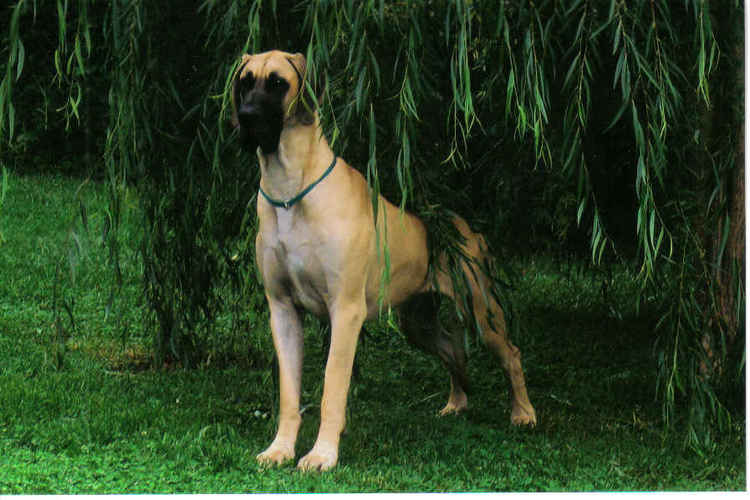 All pictures property of Sharyn Wright and Brian Elsley and are not to be used without their permission.
Website designed and maintained by Kerry Adams (0402 492 949).
Website hosting and domain registration powered by DomainNameSanity.com